Whether you want to relax, entertain or create an exceptional gathering atmosphere for your family and friends, LimeTree Alfresco are experts in creating a variety of outstanding alfresco outdoor kitchens in Australia to transform your home.
Learn more about the specifications of this outdoor entertainment hub in Mt Eliza.
The purpose of your outdoor kitchen will influence where the location of the kitchen will be, what features it will have and how it will be integrated into the outdoor space. Each outdoor kitchen we design is tailored for the customer to ensure maximum enjoyment and convenience.
Dimensions:
4800mm x 2520mm x 3580mm – U Shape
Colours & Finishes:
Cabinetry Colour: ACP-Matte Range – Matte White

Benchtops: 80mm Corian Ash Concrete – Carbon Concrete Feature to Rear BBQ
Appliance List:
BBQ: Beefeater Signature Proline Integrated BBQ with Hood

Side BNR: Beefeater Proline QUAD Burner

Fridge: Beefeater 2 Door Beverage Centre

Pizza Oven: Zesti 1100 Wood Fired Pizza Oven

Rangehood: Gasmate 1200 Island Rangehood

Sink: 450mm Stainless Under Mount Single Bowl

Tap: Solid Stainless Gooseneck Mixer Tap
Price Estimate:
$35,000 - $45,000
*Please note that price can change depending on inclusions, materials, and selected colours.
We first met Craig with a brief to undertake an Outdoor Kitchen that was the entertainment hub of the home. The project grew through several site meetings, and a number of revisions were presented before we nailed the brief; however, a new alfresco structure was required.
The existing space was grass, dirt and rocks on arrival, and whilst we were happy to provide a vision for the Outdoor Kitchen, Craig required a quality builder to complete the new space. He contracted Ross from Bunnage Builders to undertake the structural work, and the result was amazing. He used the following materials to match Craig's existing outdoor area:
An extended merbau deck in conjunction with cedar ceilings and columns, finished concrete poured bench for the stainless steel pizza oven, louvered aluminium shutters and LED feature lighting.
The LED feature lighting was also incorporated into the benchtops illuminating the Matte White cabinet panels to great effect, whilst the ceiling-mounted island rangehood was specified to give an uninterrupted aspect throughout. Mission accomplished. A large bar space with a double door fridge ending with the Zesti 1100 Wood Fired Pizza Oven in the corner completes the ideal prep area along the 4800mm rear wall of the Alfresco design.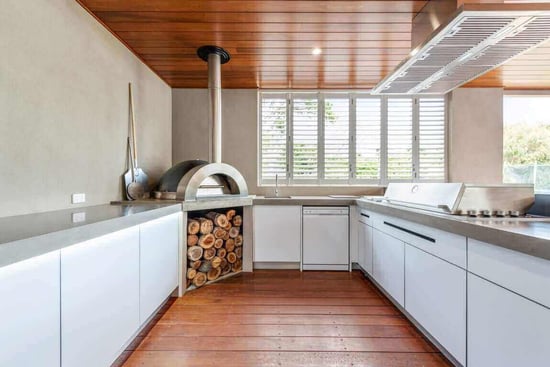 A sink, Tap and dishwasher complete the 2520mm return underneath a louvred folding window. Allocating this space to the utilities means they are discreetly hidden from the main view of the space; however placed together to be completely functional, which makes sense.
The big peninsula extension is a large feature of the design where guests can be seated. This contains the BBQ and side burner, integrated bin and wine rack on one side, whilst casual seating around the huge Corian Ash Concrete bench enables the host to be part of the action, interacting with guests whilst grilling up a storm. A large screen T.V was fixed to the opposite wall giving all guests a clear view of the action, even when hitting the fridge for a fresh coldie.
___
Whether a new build or a relocation of an existing structure, our team creates a unique bespoke outdoor kitchen that will transform your outdoor space for many years.