Discover the specifications of this outdoor kitchen project in East Malvern.
This fantastic 5-metre plus Outdoor Kitchen takes pride in place in our client's amazing Malvern East rear yard. With Pool and Outdoor Lounge close by, the Kitchen has completed the entertainment package for this space. Because LimeTree Alfresco custom design all our outdoor cabinetry to suit a required area, this unit fits neatly into a red brick alcove at 600 deep. The unit is a tick over 5 metres long.
Dimensions:
Colours & Finishes:
Cabinetry Colour: ACP-Matte Range – Steel Grey

Benchtops: 40mm Corian Cameo White

Splashback: Corian Cameo White – Stainless to BBQ
Appliance List:
BBQ: Beefeater Signature 3000S 5 Burner Built-In

Fridge: Beefeater 200 Litre Alfresco Beverage Centre

Sink:380 x 440 Square Stainless Under Mount Sink

Tap: Antique Stainless Gooseneck (By Client)
Price Estimate:
$15,000 - $20,000
*Please note that price can change depending on inclusions, materials, and selected colours.
Along with the Beefeater BBQ and Fridge, Sink and Tap, thus design includes some hidden features not immediately noticeable but convenient. An integrated Hettich bin system and Hettich cutlery insert are two of our most popular inclusions to most installations. This Outdoor Kitchen also has a wireless mobile phone charger on the benchtop.
Yes, that's right, John, Anna, kids and guests can charge their mobile devices by simply placing the unit on the benchtop. Awesome.
Like many projects recently, John and Anna chose our Matte Steel Grey cabinet doors. These Aluminium Composite Panels come with a ten-year UV stability warranty. Ideal for externally located units such as this project. Corian Cameo white was chosen for not only the benchtop but also the splashback. The combination is a win and looks stunning.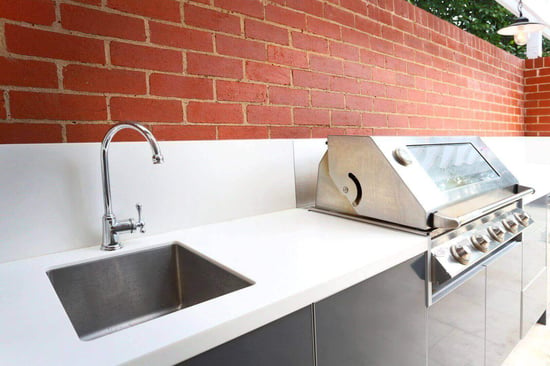 This is what John and Anna said about the project:
"Limetree Alfresco delivered on what it said it would. We were recommended to look up this company by two contractors working on our backyard transformation. We are so impressed. The outdoor kitchenette is huge, but it looks wonderful.

Adam, Tracey and everyone at Limetree Alfresco was wonderful to work with and professional from the word go. Initial consultation, going to see them at the Pool and Spa show and then meeting them at their Braeside Workshop, was interesting and cemented to us that this was the company to go with. Our Kitchenette truly looks remarkable and is a testament to a company that delivers what they state.

We have not stopped cooking out there. Isn't this the aim? Family time, cooking and conversation. Thank you, everyone, for making our Kitchen/BBQ area a reality and a talking piece when everyone gathers around our beautiful backyard."
____
LimeTree Alfresco, specialists in premium outdoor kitchens, offer a design and planning service for an award-winning outdoor living area.