Uncover the story of this bold and colourful outdoor kitchen project in Malvern.
It's hard to miss a statement piece like this project. The team were blessed to work with Simon and Penelope, who had an adventurous vision for the colours they wanted in their project.
Dimensions:
3880mm x 4100mm x 710mm – L Shape
Colours & Finishes:
Cabinetry Colour: Special Powdercoated Aluminium – Dulux Rainforest Glow

Benchtops: 40mm Corian Clam Shell

80mm Corian Concrete – Breakfast Bench
Appliance List:
BBQ: Weber Q3600 Family Q Built In

Fridge: Beefeater Single Door Beverage Centre

Sink:450mm Stainless Under Mount Single Bowl

Tap: Solid Stainless Gooseneck Mixer Tap
Price Estimate:
$15,000 - $20,000
*Please note that price can change depending on inclusions, materials, and selected colours.
Did we mention colourful? The bold choice of a particular powder-coated aluminium cabinet door makes the whole space sing. Dulux Rainforest Glow has a natural citrusy yellow/green hue that is a highly unusual colour but has blended in with the surrounding greenery of the couple's lovely garden beautifully. We love it.
The existing veranda had some nice outdoor formal seating. However, the BBQ sitting at the far end of the 4-metre wall looked slightly tired and out of place. Simon had been using the Weber Family Q on a trolley and, when deciding on upgrading the outdoor space, was keen to incorporate the built-in version, which has become extremely popular. Click here to see what other products are available from our online store – LimeTree Outdoor Store.
Adding a single glass door bar fridge to keep drinks cold and handy was an obvious choice, whilst a fully plumbed sink and tap were also added to make the Outdoor Kitchen a truly self-sufficient unit. These items, along with the ample cabinetry, took care of the 3880 mm end wall of the existing alfresco.
A casual bar seating section was constructed to the nearest veranda post to make more use of the space. The 80 mm thick Corian benchtop was given a contrasting colour to the central unit. At 4.1 meters in length, the benchtop required a steel subframe and centre support to remain solid and level. The area underneath the bench was left open to not close in the corner and give uninterrupted garden views from all angles.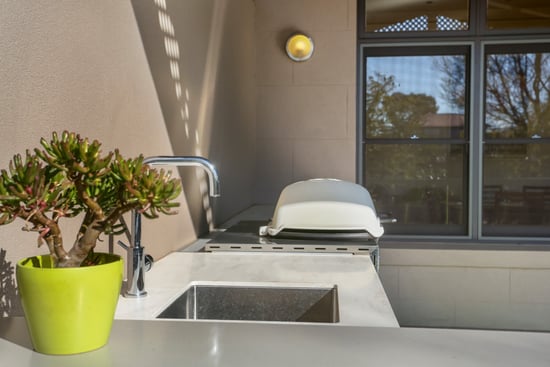 What we have created for Simon and Penelope is a fantastic, colourful, casual entertainment space that will provide many years of entertainment for family and friends. Thanks so much to our wonderful clients for the bold colour choices.
____
Whether you want to relax, entertain or upgrade your outdoor dining area, our team has the expertise and experience to create a variety of outstanding alfresco outdoor kitchens to transform your home.