Married At First Sight Couples with their own Outdoor kitchens.
Who can resist the emotion fuelled angst of this Season's ratings winner-Married at First Sight! With all the scandal of previous seasons (somewhat turned up we might add) we've been enjoying the crazy antics and ridiculous matchings the 'experts' have put before us. We've decided to do our own bit of match making however…
We may not be the love 'experts' but we are definitely the Outdoor Kitchen experts and what can bring a couple together better than a spot of outdoor entertaining. A cheeky kiss over the bbq, a loving embrace at the bar fridge….who knows where things could go hey! So in the spirit of MAFS we've teamed our favourite couples up with their perfect Outdoor Kitchen.
Cam & Jules
Well these two were a winning match from the moment they laid eyes on each other. Loved up and blissfully happy, this couple live in Sydney and share a taste for modern, clean design. Being Sydney-siders, real estate space is at a premium so we've chosen this balcony outdoor kitchen design for them. Plenty of room for friends & family with a large Gasmate BBQ and beer taps to top it off!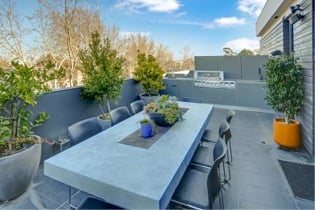 Heidi & Mike
Well we love Heidi and Mike and we're thrilled they've decided to stick together! Both of them live in QLD and share a love for the beach and warm weather so we've chosen a gorgeous outdoor kitchen for them that feels really open and fresh. This super functional design features a large Beefeater BBQ, bar fridge and plenty of room to entertain family and friends. Complemented by the pool this outdoor kitchen is sure to keep them happy for many years to come!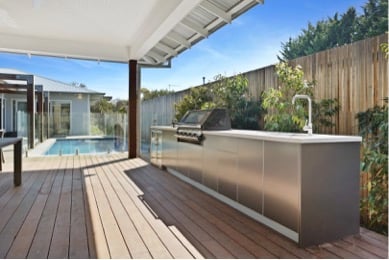 Michael & Martha
This well-manicured couple have been strong performers in the love stakes from the beginning. Assuming they can stop primping and pampering themselves long enough to cook, we think something with plenty of seating and cooking options for Martha's large Greek family would be best. This great design features 3 cooktops, sandwich oven and bar fridge so there'll be plenty of space for all the Uncles to get in there and show off their BBQ skills!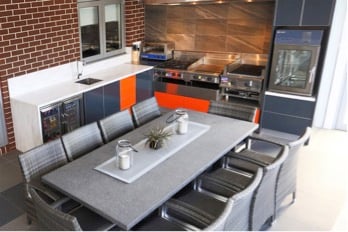 Mark & Ning
Well we were a little sad to see this couple bow out this week. After a pretty disastrous wedding, Ning had finally come around to Mark and fallen for his understated charm and caring nature…..but alas too late. We've decided that this romantic outdoor kitchen would have been perfect to help them build the loving vibes. This design is simple but classic with a beautiful garden surrounding it to provide privacy for the lovely couple. The large BBQ would have ensured Mark could improve on those cooking skills he hasn't used in years and there's plenty of space for Ning to stretch out with her 3 children. Oh well...not all romantic tales turn out for the best.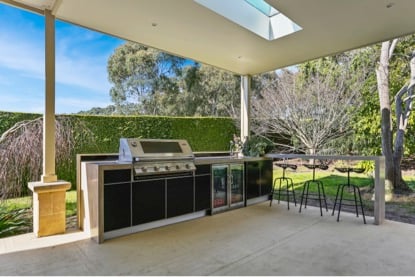 Dan & Jess
This controversial couple certainly weren't our favourite but we thought they deserved their own kitchen all the same. This large outdoor kitchen will give Dan's son plenty of space to run around and room for loads of family and friends to come and enjoy. This beautiful design features Dekton bench tops, the Beefeater Proline BBQ, Proline QUAD Side burner and bar fridge. Set against the pool it's the perfect place to build those lasting loving vibes!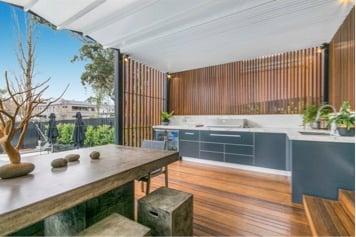 ___
To check out more such blogs, click the button below.