How to add value to your property?
If you're looking to improve the value of your home, there are countless ways you can go about it. Renovating, extending, adding a pool or spa, building a new driveway or patio… The list goes on. However, an outdoor kitchen is fast becoming the first choice for homeowners and investors alike when it comes to adding real value to a property.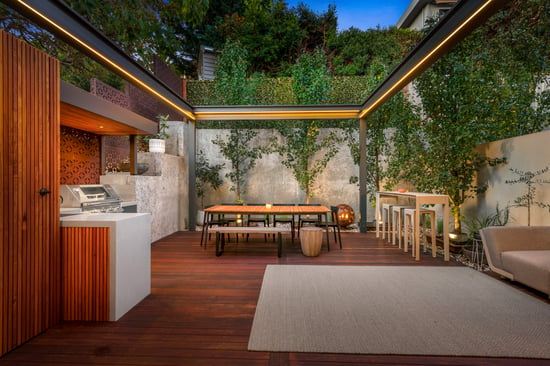 With outdoor living at home such an essential part of the Australian lifestyle, especially in 2020, it's no surprise homeowners want inspiring outdoor spaces to feature in their homes. Showcasing your home's ability to enjoy the outdoors sells the alfresco lifestyle dream. And what better way to do that than with an outdoor kitchen?
What will it cost?
Unlike home extensions, where costs can skyrocket, a well-designed, functional outdoor kitchen can be low cost while adding more value to your home. This means a bigger bang for your buck. With the bonus of using it year-round, an outdoor kitchen can become an additional living area of the home, allowing you to enjoy the best both inside and out.
Choose a design that suits your home.
When considering how much value an outdoor kitchen can add, consider the style and age of your existing home and select a design that matches. As with any investment, you don't want to overcapitalise, so choosing an outdoor kitchen that suits your home and matches the property's existing style is critical.
Go with a professional
With several options available, it can be easy to get carried away. To ensure you get the most appropriate outdoor kitchen for your home, it's always best to select a reputable and experienced installer with plenty of completed projects they can showcase. If you can see some of their work in person or visit a showroom, absolutely do that.
Functionality is key
When it comes to selecting your outdoor kitchen, give plenty of thought to the functionality of your space to ensure you're adding as much value as possible (again, without overcapitalising). For example, many people think about not including a fridge in their outdoor kitchen design – there's one inside, after all – but do you want to be walking in and out of the house while you're preparing food? Probably not.
A small bar fridge is a great compromise, and you'll be thankful you included it come summertime. When it comes to functionality, you also need to think about:
Benchtops, storage and prep areas
BBQs and other appliances
Plumbing, gas and electrical points
Lighting
Ventilation and shelter
Heating and cooling
Dining and seating
A knowledgeable and experienced outdoor kitchen supplier can help guide you through these decisions to ensure you're adding the most appropriate and best value outdoor kitchen to your home.
____
If you're ready to learn more, get in touch with the team at Limetree Alfresco today!