Build the perfect Outdoor Kitchen.
Investing in a high-quality outdoor kitchen can add significant value to your home. In fact, for many people, it's the highlight of their entire residence. However, while there are a million articles advising on what you should do when designing and building your outdoor kitchen, there aren't many that explain what you should be avoiding.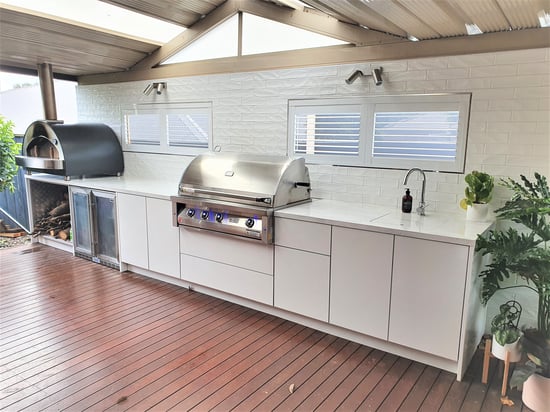 Any outdoor kitchen worth having will be an investment. It's something you're going to be regularly using and will be where you spend many days eating, drinking and socialising with the people you love. Undertaking the proper planning to avoid these common pitfalls will ensure your outdoor kitchen not only lasts for years to come but continues to host incredible experiences throughout this time.
Do Not Enclose Your Space
While it may be tempting to create an enclosed space for your kitchen to sit within, this can present a potential hazard. There are strict regulations around connections to Natural Gas or using LPG in confined spaces. If you choose not to have two open sides, you must ensure that there is a minimum of 30% of the remaining wall area.
Do Not Fit Your Services Before Confirming Your Design
We've heard people make a common and costly mistake of placing their services in their outdoor space before approving a design. Having a solid plan in place should be the first step and act as the framework for the remainder of the build and fit-out. While people who have their power set up first should be able to retain some flexibility, anyone who jumps the gun on plumbing risks facing some very costly changes and potentially compromising the result of their project.
Do Not Choose An Indoor Rangehood
Alfresco range hoods are semi-commercial units that move a minimum of 2000m3 of air an hour. This is an essential requirement to extract the amount of grease and smoke an outdoor BBQ can generate - up to 10 times more than an indoor stovetop. An indoor rangehood isn't powerful enough to deal with a BBQ. You risk having smoke blowing in the faces of your guests, but they have also been known to start house fires.
Do Not Use Quartz Benchtops
Engineered stone benchtops such as quartz are generally made using a polyester binder. While they may look attractive at first, the polyester is susceptible to UV damage and may cause the colour of your beautiful benchtop to fade in the sun.
Find out more about the best-performing benchtops for your outdoor kitchen.
Do Not Settle For A Cheap BBQ
Trying to cut costs on your BBQ is never a good idea. As the centrepiece of your outdoor kitchen, its quality will likely define the success of your build and space for years to come. The heart of your outdoor kitchen should ideally last the entire life of the joinery, as having to replace the BBQ early could pose a costly and challenging problem. We generally recommend looking for a 10-year warranty on the firebox as a minimum standard. It will likely save you a lot of money and stress in the long run.
____
For more information on what not to do when it comes to your outdoor kitchen, get in touch with the expert team at Limetree Alfresco today!