Discover the specifications of this alfresco kitchen project in Blairgowrie.
Whether a new build or a relocation of an existing structure, our team creates a unique bespoke outdoor kitchen that will transform your outdoor space for many years.
This project feature is a well-thought-out addition to the existing alfresco space at this Blairgowrie new build.
Dimensions:
Colours & Finishes:
Cabinetry Colour: ACP-Metallic Range – Metallic Charcoal

Benchtops: 40mm Corian Silver Birch
Appliance List:
BBQ: Beefeater Signature 3000E 5 BNR Built In

Fridge: Beefeater 2 Door Alfresco Bar Fridge
Price Estimate:
$14,500 - &16,500*
*Please note that price can change depending on inclusions, materials, and selected colours.

Because the cabinetry and benchtops are weatherproof and UV stable, our clients were able to position the Outdoor Kitchen to the rear of the decked space. This opened up the undercover area for a large dining table and chairs. Once again, we showcase the Beefeater appliances in one of our projects. The Beefeater 3000E, 5 Burner BBQ, is becoming a popular inclusion for coastal areas due to the enamel hood being less maintenance than a stainless version.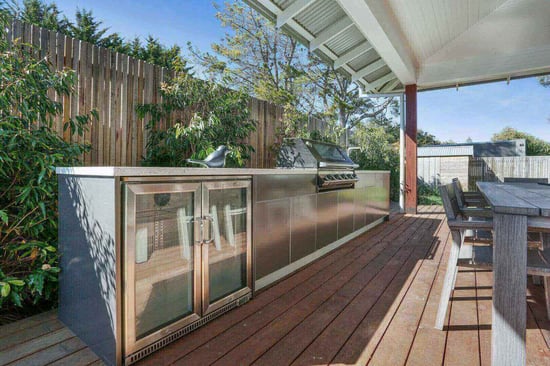 The two-door alfresco beverage centre will keep drinks nice and cold up to 43 degrees ambient temperature. A sink and tap have been added to make the Outdoor kitchen a self-contained unit, meaning it has no reliance on the indoor facilities.
Featuring our most popular cabinetry colour, Metallic Charcoal, this unit is not only functional but very easy on the eye. Sticking with one of our many simple design principles, the Outdoor Kitchens cabinets have been kept a similar size to each other. The unit next to the sink has an integrated bin.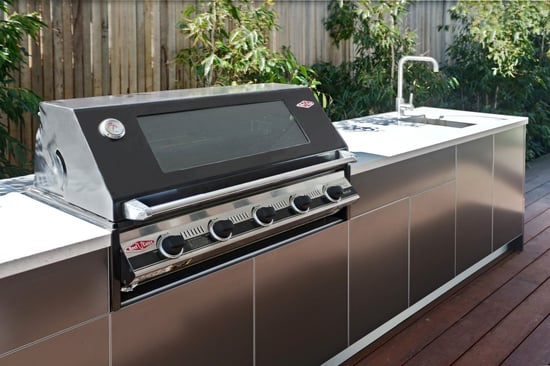 This accessory is by far our biggest selling internal item. The Corian benchtop colour of Silver Birch has been making a solid comeback recently due to its Terrazzo look and feel - bang on current trends.
____
Upgrade your outdoor living with our custom-made outdoor kitchens: premium service, high-quality artistry, and Australia's best outdoor kitchen appliances.