Beefeater- A quality barbecue.
From a humble start, local icon Beefeater has positioned themselves as the market leader for quality BBQ's in Australia. When we're in the design stages of an outdoor kitchen, and you're sourcing your appliances through us, one of the first companies we will talk about when you ask for a good quality barbecue is Beefeater and the reason is simple.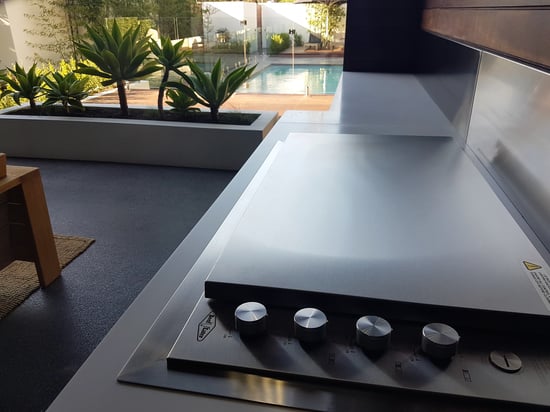 Our Outdoor Kitchens are designed to give many, many years of quality lifestlye service and we need the BBQ to do the same. An extensive range of built in BBQ's give our clients a fantastic choice of features and benefits to suit all requirements. A complete range of accessories and tools compliment the range and add to the finished product. A recent upgrade to the Beefeater website will impress and provide an excellent resource tool.
Warranty
This really is a LimeTree Alfresco non-negotiable when working with a supporting manufacturer. An excellent product warranty gives us confidence in a product and confidence to recommend to our clients. We'll talk about all the awesome features and detail how succulent you can have your steak, but at the end of the day performance must come with reliability. Beefeater's Discovery range built-in barbecues have a durable cook top, are rust resistant and made from vitreous porcelain enamel coated cast iron, this is one of the toughest coating available. If you're unfamiliar with this material, it's actually the same material that's on the inside of your oven.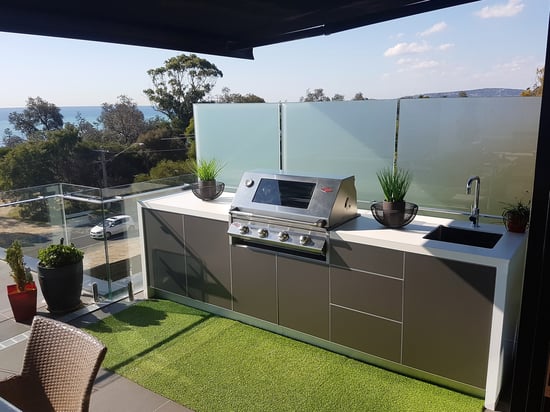 Easy to clean and made for keeping the heat in. The Signature 3000 series is next level with quality 304 Stainless Steel throughout the construction. The BBQ models featured below are easily the most popular with our clients. We will detail some features of each model so you can decide which awesome BBQ will fit your lifestyle and requirements.
Signature Proline 6 Burner Integrated BBQ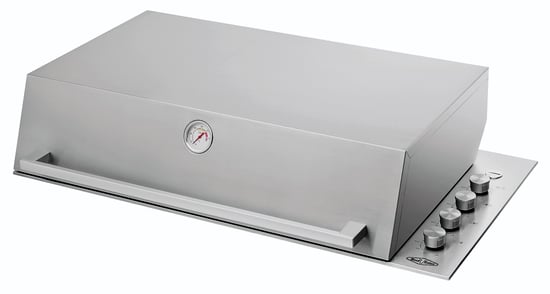 Sleek Linear Design




"Sleek lines, cutting-edge style and a top-class range of innovative features." This is definitely a unique style. Distinctive and smooth, it's a great addition to a modern style Outdoor Kitchen.

Reliable Cast Iron


This grill will heat up fast, the cast grill and hot plate will make maintaining superior heat retention and consistent cooking results a snap.

Intuitive Controls


The ergonomic controls are designed with form and function in mind. Your controls will also have power level indicators to stop you having to play around with the guesswork and ensure a perfect meal, every time.

Even Heat Distribution


"The state-of-the-art cooking surface features six powerful burners to ensure precise heat distribution and amazing results every time." Beefeater even promises peace of mind of always having your food cooked evenly and just the way you like it.
Signature 3000S - 4 Burner Built In BBQ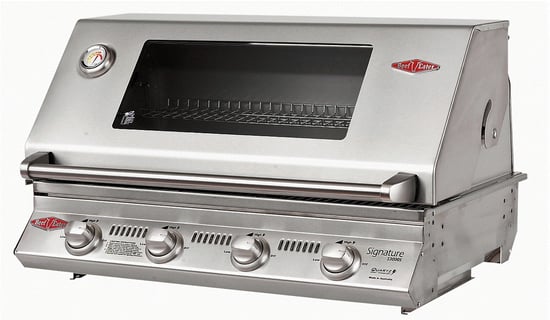 Integrated Stainless Steel Convention Roasting Hood
"The roasting hood also includes an on-board temperature gauge and warming rack."
Durable Rust Resistant Stainless Steel Cook top
These cook tops are make from high quality stainless steel that are corrosive resistant, hygienic and easy to maintain.
Vaporizer Grid Reflector System With Anti Flare Technology
Anti Flare technology will reduce flare ups that can happen while cooking, and avoid heat loss for faster cooking and superior fuel economy.
120 Single Door Outdoor Display Fridge.
Available in 3 different configurations


These fridges are available in single, double and triple door units. Depending on how much room you need.

IP4 Outdoor Rating
This means these fridges are one of only a few that can get wet without damaging the unit.
Designed for outdoor use.
"Has been tested to 43C in the shade and has a 304 grade stainless steel finish, making it ideal for usage in an outdoor environment"
Insulated and heated double glazed glass doors with stainless steel frame.
This is a really great feature for the over all look of your kitchen. The glass door allows for anyone who's undecided on what to drink to stand around and mull over their choices for as long as they want without letting all the cold air out. The doors are heated to prevent condensation for even better visibility and protection of your floors.
Electronic touch controls
Your controls are on the front of your fridge, so you can set you temperature easily without fiddling around in the back. Temperature can range between OC and 10C.
If you'd like to see an example of the Beefeater range, we recently posted a breakdown of a project in Blairgowrie that features a few of their products beautifully.
___
To learn more about these products, check out our blog page.