Solutions for inside your cabinets
Organising any kitchen can be difficult. However, when planning for a kitchen outdoors, you have to allow for much bigger tools than just simple kitchen tongs. For items such as pans and barbecue tools, you can also want to have much smaller spaces to hold a variety of spices and sauces and cutlery you plan to use for your gatherings.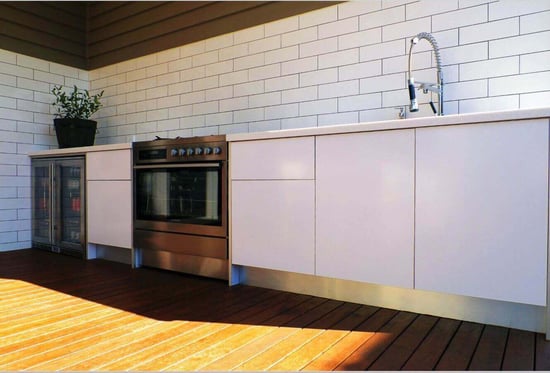 This flexibility can be seemingly hard to come by; what's perfect for your kitchen might be entirely different for your neighbours. How you cook and entertain is unique to you, which means you need to have an organised system that works for how you need it. Your home should be comfortable and functional, inside and outside.
InnoTech Drawer System
For those who take satisfaction and comfort from everything having a place, Hettich's InnoTech has internal organisation solutions to suit any taste. All Outdoor Kitchens manufactured by LimeTree Alfresco have Hettich hardware as standard. From Hettich's website, these are the quick technical details of InnoTech drawer systems:
Two-drawer side-profile heights

Seven lengths

Four rear-panel heights

Colours: silver, white and anthracite

Side elements for front extensions in two heights, railings

Quadro runner systems: part extensions 25 kg, full extensions 30 kg and 50kg

Silent system optional for 25 kg and 30 kg, integrated as standard for 50 kg.

Opening systems Push to Open optionally integrated into the runner.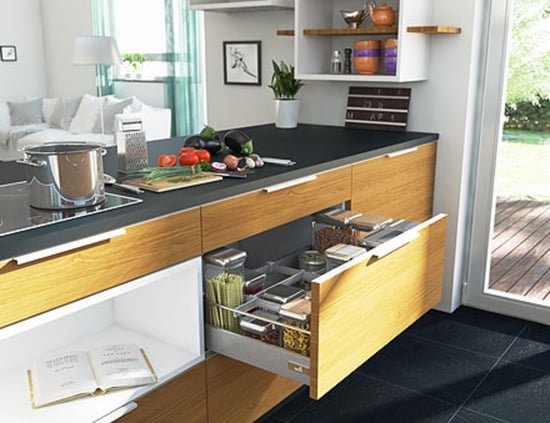 Hettich offers a wide range, which allows you to customise it to arrange your things in the best way to suit you, but it provides the opportunity to add a personal touch. "InnoTech makes it easy and inexpensive to carry external design and materials to the cabinet interiors." Adhesive decorative profiles, for the outward appearance of your drawers, with matching cover caps, for the organisational dividers inside, provide unique design options. Ideal for retrofitting too, which means your kitchen now doesn't have to be your kitchen forever.
Some examples from Hettich's online catalogue
OrgaTray
This is where cutlery, large and small cooking utensils and everyday bits and pieces find precisely the right place they need. Extremely variable: the size of compartments is adjustable.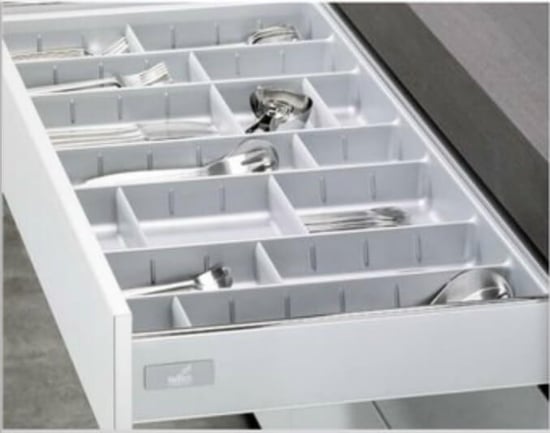 InnoPlus cutlery tray in steel
A premium alternative to the plastic cutlery tray. The surface is finished in a double powder coating and harmonises perfectly with the drawer side.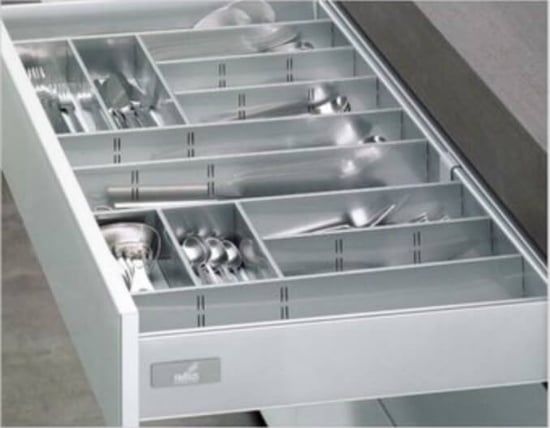 OrgaStore
Adjustable compartment sizes and optional clip-on trays for small items add the perfect touch to the modern interior. It can be combined with Design Side or railing in just the way preferred – for unlimited flexibility.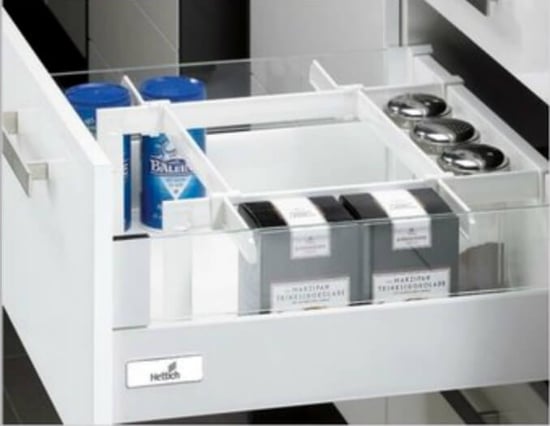 ArciTech Drawer System
"Incredible design flexibility: timeless, sleek design fits homogeneously into any kitchen and home environment. Made of high-quality materials." From Hettich's website, these are the quick technical details of ArciTech drawer systems:
Three drawer side profile heights

Eight lengths

Seven rear panel heights

In stainless steel and silver, white, anthracite, or champagne colour finishes.

Side elements for pot and pan drawers in two heights, railings

Runners: 40, 60, an 80 kg - silent system

Push to open/push to open silent
ArciTech's drawer systems are smooth, with quiet running action that reflects its quality. "The Actro runner's excellent quality can be felt in every movement of the drawer: the unique prism principle ensures a perfectly coordinated movement cycle that hardly makes a sound. The profiles are controlled in perfect synch for a running action that is even and without any noticeable transition."
Something you can expect with all ArciTech drawers is a tiny force needed to open the drawer. Almost all of the kitchens we produce are pushed to open, with a few exceptions, so this is quite valuable. Not only will you only need a gentle nudge, but the drawer will respond and push open enough that often you won't need to pull the drawer further unless you need something at the back.
Waste Management
"The integrated Pull Bin System from Hettich is rugged and reliable; with the lightest touch, the system slides away silently out of sight. The system can be used with Hettich's award-winning drawers; ArciTech provides impressively smooth, even Actro running performance. Or with InnoTech Atira running on the high-quality Quadro ball bearing runner.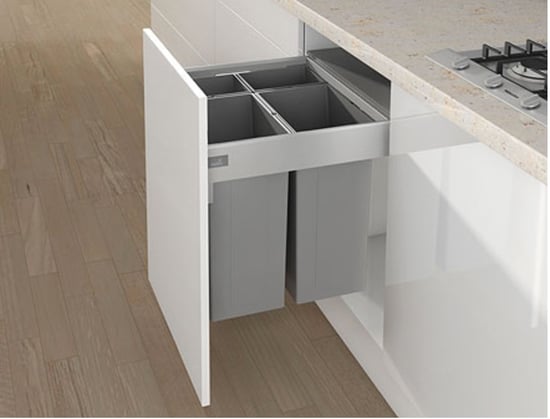 The powder-coated steel frame of the pull system sits securely attached to the Hettich drawer system, supporting the liner bins" Convenient enough that a gentle nudge can have your chest in front of you, saving extra clean up from having to touch lids and drawers with dirty fingers and scraps. Your wardrobe will hide effortlessly within your outdoor kitchen, which offers a clean and modern feel.
Some more examples from Hettich's online catalogue
ArciTech Pull Waste System Set:
Top running waste collecting system for ArciTech drawer, 94 mm high

ArciTech Pull Frame is fitted instead of the drawer bottom panel.

The frame can be equipped as required with various bins and accessories.

Frame powder-coated steel, silver

Bin plastic grey
InnoTech Atira Pull Waste System Set:
Top running waste bin for InnoTech/ InnoTech Atria drawer, 70 mm high

The InnoTech Pull frame is fitted instead of the drawer bottom panel.

The frame can be equipped as required with various bins and accessories.

It can optionally also be used with Quadro V6 full extension runner with push to open

Frame powder-coated steel, silver

Bin plastic grey
The bins are hygienic and easy to clean, with every container in the range coming with a top-mounted cover that acts as an odour minimiser against unwanted smells.


____
For more solutions such as this, check out our blog page.