Find out how to shade your outdoor kitchen.
Once you've created your perfect outdoor alfresco kitchen space, you'll want to make the most of it all year round as there are barbecues under the summer sun, festive family feasts and cozy winter evenings beside the firepit.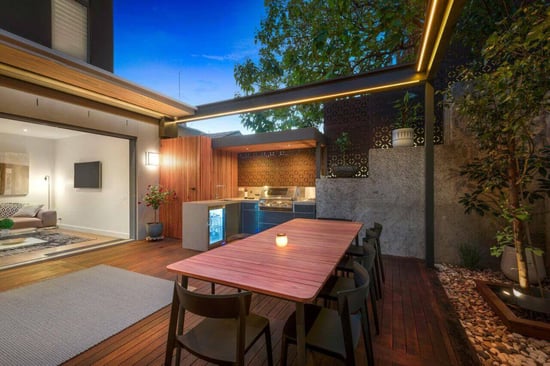 Although Australia offers the ideal outdoor kitchen lifestyle, the weather doesn't always play ball. While all materials used for Limetree Alfresco kitchens are fine to leave uncovered, for your comfort, come rain or shine, you might prefer to install a covering – meaning those fun-filled evenings of entertaining don't have to go to an end once the rain begins.
There are several options available, so how do you choose the perfect one for you? Some things to bear in mind are your budget, the look you want to achieve, how much of the outdoors you want to invite in and potential drainage solutions.
Here are a few options to protect you from the seasons and enable you to stay sun-safe while enjoying your outdoor space.
Cafe-inspired umbrellas
Add a touch of Parisian chic to your outdoor barbecue kitchen with a selection of café-inspired umbrellas. Have fun with prints and fringing, scattering cushions in a complementary fabric around the dining space. The benefits? Umbrellas are easy to move and reposition, and best of all, they can be easily packed down and stored away when not required.
A classic awning
A traditional canvas awning is an excellent option as it offers both privacy and shade when required, but it can be retracted when you're ready to enjoy the sunshine. It's the perfect way to add a style statement to the space. Choose from various fabrics to complement the design of your outdoor barbecue kitchen, from classic colours like navy and racing green to vibrant stripes.
Retractable roof
Want the ultimate flexibility come rain or shine? Opt for a roof that opens and closes on demand. A louvre verandah, which features angled slats that can be tilted open or closed, is an excellent option for blocking wind and reducing heat. If budget is no issue, go for the ultimate remote-controlled retractable roof system, which can be adjusted at the touch of a button.
Tree canopy
When it comes to generating shade, this is the oldest trick in nature's book. Choose a tree that produces a lush canopy and enjoy beautiful dappled light dancing through the leaves. Be prepared to play the waiting game if you opt for a sapling – you might need a temporary solution until it reaches its full potential. Don't have time to spend? Have a mature tree relocated to the space?
Winery-style vines
Bring sun-kissed winery vibes to your outdoor barbecue kitchen with a leafy vine – a pretty and natural option for generating shade. Choose a grape plant or similar fast-growing variety to train along with a pergola or the frame of your outdoor area. By summer, its full foliage will provide the perfect amount of shade under which to relax with a glass in hand.
___

Not sure which is the best option for your space? Limetree Alfresco is on hand to discuss all of your outdoor kitchen needs.