Introducing the Dekton Range.
Its sophistication, modern look, and high-performance features are one to consider when designing your Outdoor Kitchen.
So firstly, what exactly is Dekton, we hear you ask?
In non-technical terms, it is a new and very advanced surface created by replicating a process that occurs naturally in nature. In nature, this process takes thousands of years and is the gradual compacting of natural stone under high temperatures and pressure. Dekton has perfected this process, calling it 'Sintering', and it takes mere hours to do, resulting in a very high performing, solid & resistant surface that looks amazing. But don't take our word for it; keep scrolling.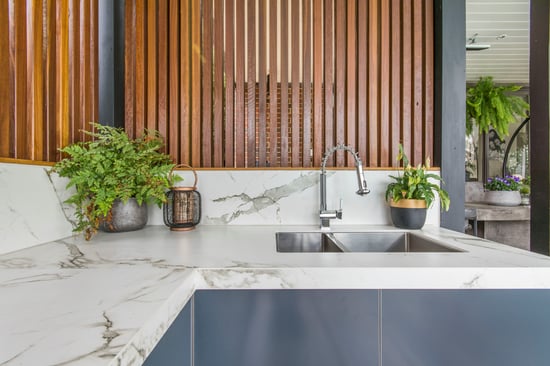 WHY CHOOSE DEKTON?
UV Resistant

Dekton is highly resistant to UV light, making it the perfect choice for your Outdoor Kitchen. Fade over time? Not! Your Dekton benchtop will look good as new for years to come! It's ideal for indoors or undercover as well and rest assured that while the patio or pergola is being built, your new Outdoor Kitchen won't be degrading in the sunshine.
Scratch Resistant
Dekton is also highly scratch-resistant and can withstand nicks and scratches (although cutting boards are still recommended.) No one wants to tippy-toe around the new Outdoor Kitchen. It needs to withstand all the elements…including the human variety…and it certainly does that with ease. You can be assured that your Dekton benchtop will look fantastic year after year!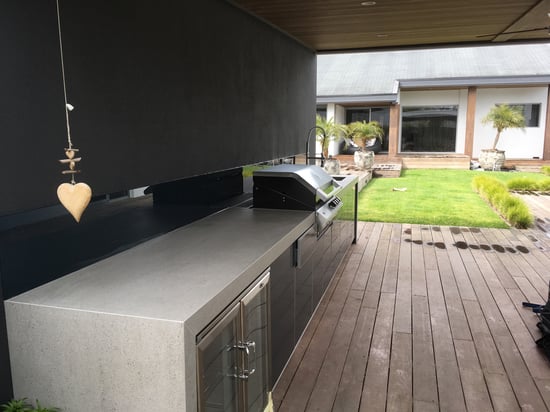 Stain Resistant
The news keeps getting better because Dekton also has extremely low porosity! Even the most stubborn stains like wine, coffee, texta and rust can easily be removed. Dekton also contains no resins and is chemical resistant, meaning drips and splashes of your typical household chemicals won't do any harm. This is probably the most accessible surface to clean if you still need more convincing…?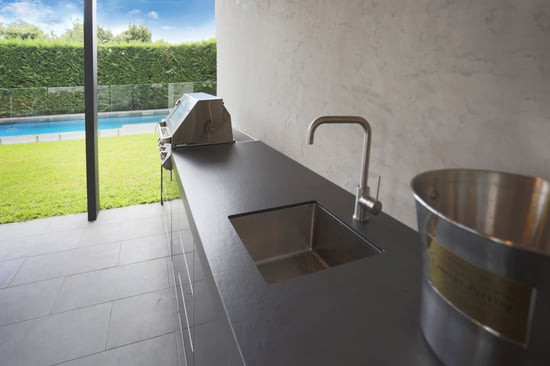 Fire & Heat Resistant
Another great feature of Dekton is that it's resistant to fire and heat, so those pots and pans can be placed directly onto the surface without fear of damage. That's right… now onto the bench with no damage! Hard to believe so many great features are in one product. If it's the cold you're worried about, then let us assure you that Dekton is also resistant to ice & thawing, so go as hard as you like…it'll still perform!
Colour Stability
Did you know that the colour you chose today for your Dekton bench will be the same colour you'll be looking at for the product's life? That's right, Dekton's unique manufacturing process gives better colour consistency resulting in a long-lasting product that will not fade over time.
Speaking of colours, we are proud to stock six colours within the Dekton range, including 4 Essentials colours and 2 Premium colours. Each adds style and sophistication to any Outdoor Kitchen.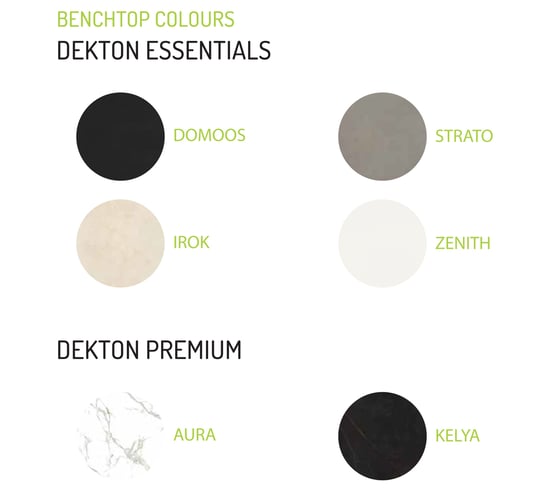 ____

With so many unique features, you'll be hard-pressed to find anything better for your Outdoor Kitchen bench top.
For more great ideas or to get a quote, please visit our website – www.limetreealfresco.com.au.
Download our design guide checklist today and start planning your dream outdoor kitchen!