Melbourne Outdoor Kitchens Inspiration
Heading out to complete another project is always an exciting thing, and this one was no exception.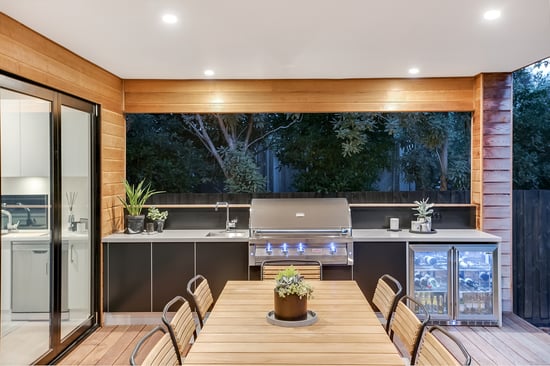 With a beachy atmosphere in mind, our excellent client Emanuella and the LimeTree team powered together to create what is now affectionately dubbed "Back beach Blairgowrie".
Bench Tops
40 mm Corian benchtops with enough room for a feast, our client picked one of our more popular colours, Dove. While sounding soft-spoken, this colour gets its popularity from resembling concrete but not experiencing the same issues that concrete often creates. Corian benchtops are 100% Non-porous (unstainable) and repairable and come with a 10-year warranty on UV stability, even in uncovered applications with direct exposure to the sun.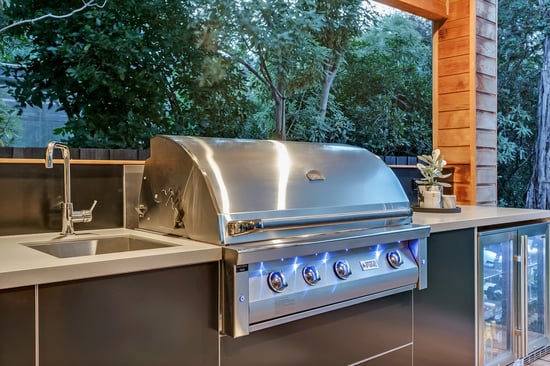 Barbecue
In choosing a Grand Fire BBQ, you have an excellent grilling machine. This 42-inch deluxe build-in barbecue has LED lights on the controls. Twin Halogen lights under the hood mean no other exterior lighting is required when using the barbecue and creates a beautiful mood—the solid stainless grills and plate complete the gourmet chef experience.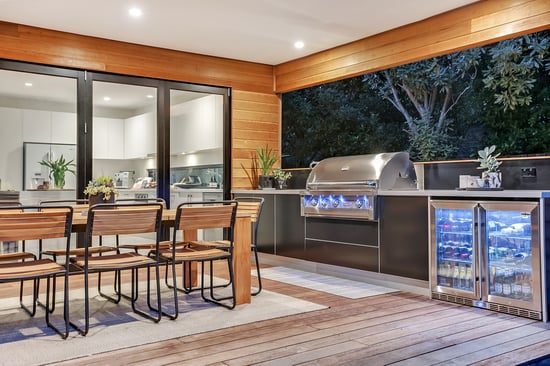 Design
The sink is fully plumbed and has a solid stainless mixer, which means the entire kitchen is self-contained. You'll save time running back and forth between your indoor kitchen and your outdoor one, eliminating the need to. By being self-contained, all plumbing and appliances are all right where you need them. The matte black aluminium doors and drawers match the splashback in colour and material. The matte black is a picture of luxury, especially surrounded by the chosen appliances and backdrop. A brushed stainless kicker separates the deck and cabinetry to frame the unit resulting in a clean and crisp, high-end beach house aesthetic.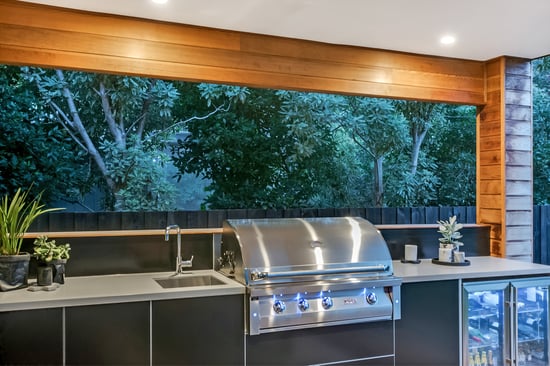 ____
If you want to read a little more about what goes into an outdoor kitchen, we have a complete design guide that you can work from like a checklist as you start to think about the beginnings of your design. The photos don't do it justice. Jealous yet?
If you have any further questions or are interested in our projects, give us a call or get in touch with us through email or social media.