Nothing like an outdoor cook-up with friends and family.
It's enjoyable, laid-back and allows you to prepare food and enjoy the company of loved ones – something that's made far more difficult when you're relegated to the indoor kitchen.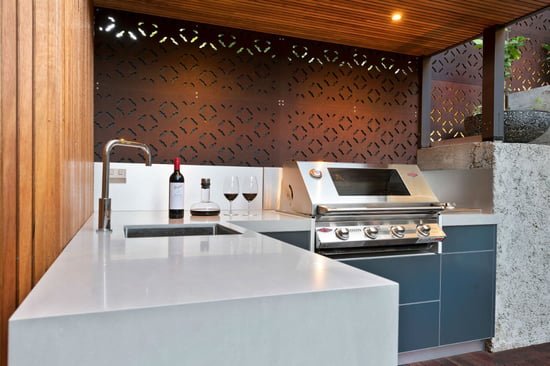 In the summertime, an outdoor kitchen can become the entertaining hub of your home. But we're not talking about a simple barbecue on the grass. There are many ways you can create an innovative outdoor kitchen for optimal outdoor dining experiences.
Read about some of our favourite innovative outdoor kitchen features that you could install in your outdoor living space.
Feature walls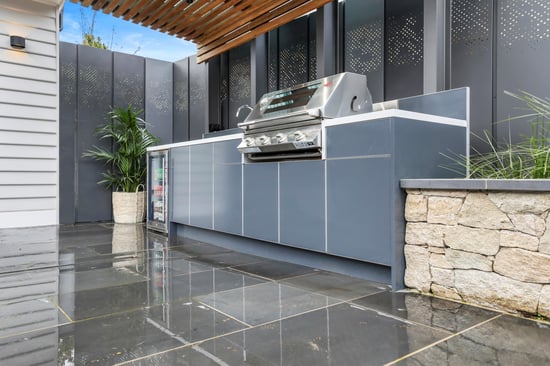 If privacy is essential, but you still want to retain a sense of style, a feature wall may be ideal for your outdoor kitchen. This will provide seclusion without completely cutting you off from your guests – plus, it makes for the perfect place to mount your kitchen amenities. Feature walls built from aluminium battens are an eye-catching attraction that will add a touch of uniqueness and luxury to your outdoor kitchen area. Decorative laser cut and routered screens can also add your style and purpose to your space.
A complete custom-designed glass splashback is also an option. Not all spaces are well equipped for a glass splashback, and your wall needs to be adequately sealed before adhering glass to the surface - call the team for more advice.
Ice well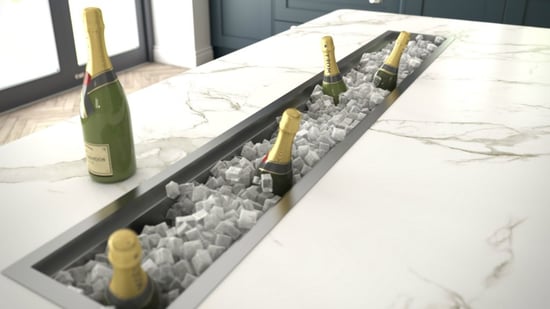 Want to be the envy of your friends by making extraordinary cocktails in the comfort of your backyard? You can't go wrong with ice well. Perfect for the communal joys of drinking and entertaining, ice keeps drinks chilled and food cold without a fridge or outdoor plumbing. This is an excellent solution for those whose access to plumbing outside is limited or difficult.
Essentially, an ice well is a stainless-steel box that is fully insulated, meaning cool temperatures are controlled no matter what time of year it may be. High-quality ice well will come with components that allow for easy storage of beverages and, depending on the size, can also double as a benchtop when a cover is placed on top of it.
Spaces for your dog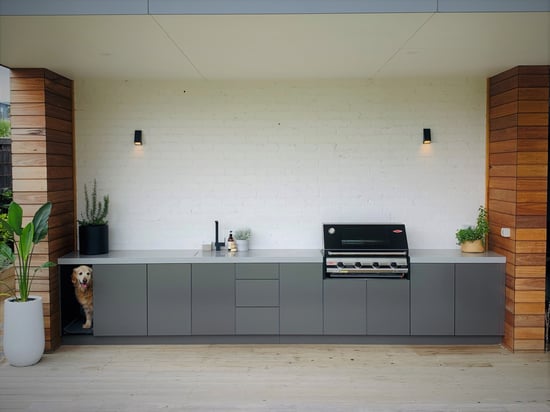 When it comes to an outdoor kitchen, you shouldn't just consider the humans in your life – what about your pets? An outdoor kitchen area is excellent for pets as it provides cool shade and a place of rest after playing and running around the backyard. Get creative and establish a spot on the deck for your pet to nap while, or create your dog garden with artificial grass and a kennel.

Pets need access to freshwater, so why not make a design feature out of this functionality requirement? A stunning water feature or fountain on your deck or the alfresco area will add a touch of glamour to your outdoor kitchen while providing your beloved animals with access to fresh drinking water.
___

Looking for more inspiration when it comes to building an innovative outdoor kitchen?