An Outdoor Kitchen is quickly becoming the "must-have" item to complete your alfresco space.
To last the test of time and give you a quality result, it is increasingly important to engage the right business to deliver your project and provide you with peace of mind for your investment—a specialist.
The ability to provide a complete package for your Outdoor Kitchen project requires the knowledge of the correct materials and experience in design and function unique to Outdoor Kitchens. Historically built by Cabinetmakers, Landscapers and Builders, it is essential to understand the need for a business that specialises in just Outdoor kitchens. We have put our main five reasons forward here: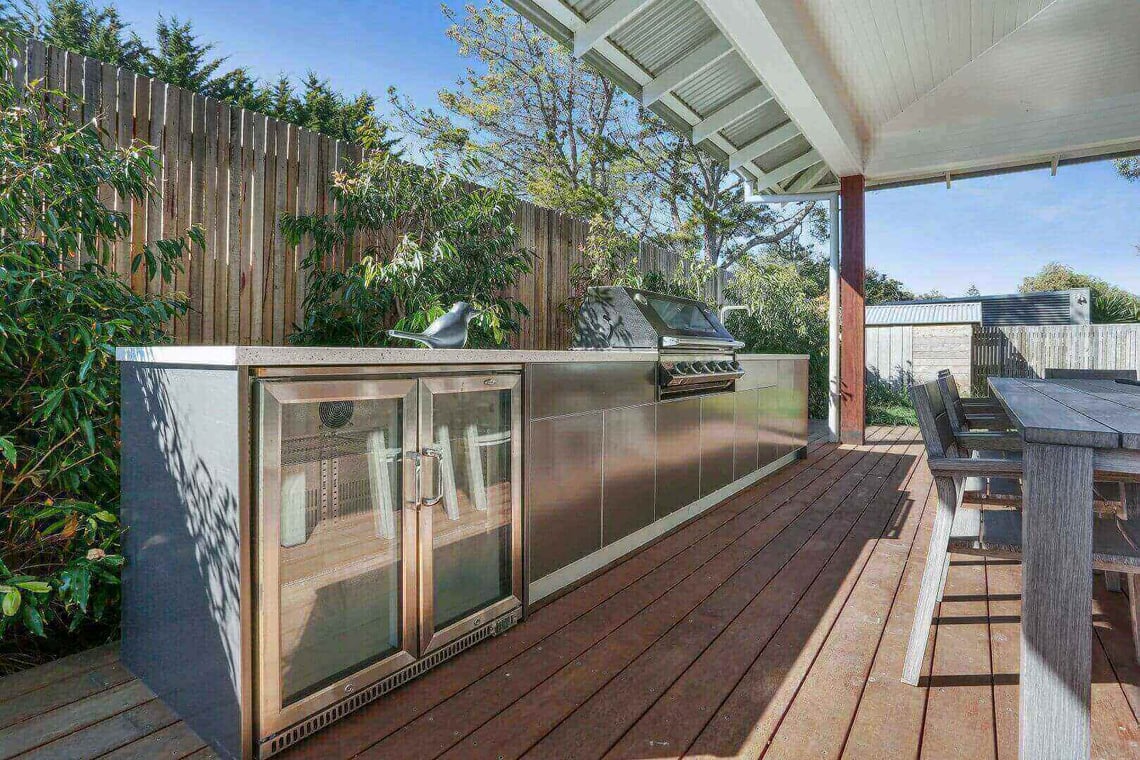 1 - Materials
A specialist in Outdoor Kitchens will always be up to date with the correct finishes to use on your project, maximising the life of your Outdoor Kitchen. Design flexibility and, more importantly, finishes that carry long term manufacturer warranties for outdoor use. A great combination.
Cabinetry should be waterproof and withstand a good soaking if it lasts many years. Even in covered alfresco spaces, the need to pressure wash or hose down your Outdoor Kitchen can be achieved using suitable materials. Overflowing or blocked drainage, guttering and downpipes can also affect your cabinets if they are not constructed of a suitable material. Just because your area is covered does not mean it is exempt from the effects of sun, moisture and air-born carbon pollutants.
Whilst materials such as stainless steel and granite have been traditionally used for Outdoor Kitchens, we tend to steer clear. Our door and drawer fronts are made using exterior grade aluminium frames and aluminium composite panel inserts. Aluminium is a non-corrosive metal and, as such, will never rust. It is lightweight, meaning your hardware's life (hinges and runners) will be much longer than using heavier items such as composite laminate products.
We have just completed a three-part blog series on our "go-to" benchtop choices for Outdoor Kitchens, which is worth reading. Our options are based on a few critical criteria, including UV stability and a non-porous, easy to clean and maintain finish.
2 - Compliance
Regulations around Outdoor Kitchens are regularly changing. Some recently changed regulations include clearances to combustible materials, adequate ventilation, and a minimum 1200mm clearance from the cooking surface to BBQ range hoods. As a specialist, we are constantly on top of all compliance requirements. Energy Safe Victoria and the Victorian Building Authority are our state's watchdogs. They enforce the relevant Australian building standards around gas safety and correct, compliant installations and connections.
.
Completing your installation by the proper authorities' guidelines may not be enough. The manufacturer's installation detail is recognised as the final say. If additional requirements are deemed necessary above and beyond the local authorities, these must be adhered to. With the LimeTree Alfresco team regularly installing over 25 BBQs, we continually update our installation details.
3 - Experience
With over 25 years in the building industry, five years specialising in Outdoor Kitchens and nearly 500 projects completed, LimeTree Alfresco has an intimate knowledge of what works and has seen what doesn't. The removal and demolition of projects built from the wrong material choices have reinforced our commitment to using quality, outdoor specific materials and finishes on our Outdoor Kitchen projects.
Our management and installation team have 75+ years of combined experience in the building industry that we bring to all of our Outdoor Kitchen installations. We have a solid commitment to our industry as current and long-term members of the HIA and Master Builders.
4 - Outdoor Appliances
Whilst the materials and finishes are extremely important to the look and life of any Outdoor Kitchen, the appliances you choose to include will complete the package and should be heavily considered a vital part of any project. Your Outdoor Kitchen specialist intimately knows the devices regularly used in Outdoor Kitchens, different from the internal kitchen.
BBQs burn extremely hot and produce 6-10 times the smoke and grease that an indoor cooktop makes. It is essential that the BBQ lasts the life of your kitchen, and this should be many years. Because of the heat generated by BBQs, a quality range hood that removes 2000m3 + of air per hour is required. Alfresco range hoods generally have twin motors and commercial quality filters.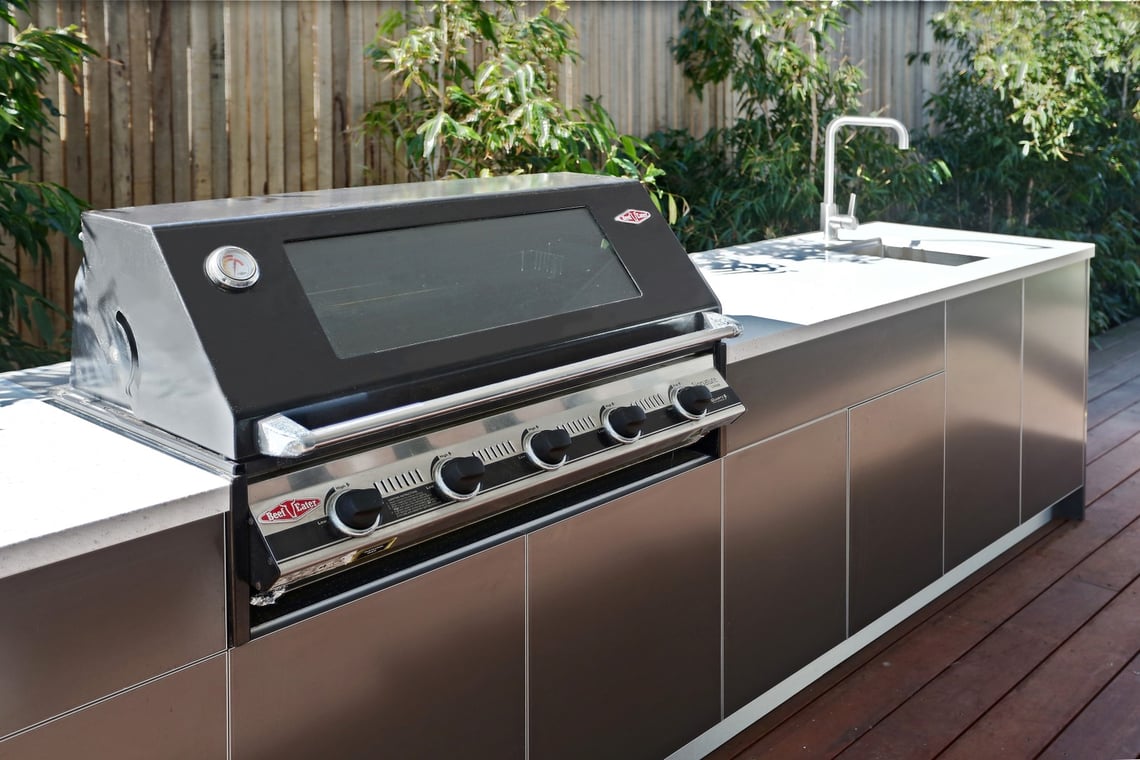 Glassdoor fridges are a popular item in the modern Outdoor Kitchen. A good quality alfresco fridge will have triple glazed, heated doors. The heating of the doors stops condensation from forming on the interior glass. Other items such as side burners, ice makers & pizza ovens are all items that an Outdoor kitchen specialist will have intimate knowledge of, giving peace of mind that you are getting the advice you need to make an educated choice.
5 - Warranties
A good rule of the quality of a product is the term and nature of any warranty given. When sourcing raw materials and products for your Outdoor Kitchen project, a critical factor in the procurement process is the warranty offered by the manufacturer.
As critical criteria in selecting a BBQ, we recommend that the manufacturer must supply a minimum 10-year warranty on the firebox (body of the BBQ). We see this as extremely important to ensure the heart of the cooking centre remains structurally sound for the life of your Outdoor Kitchen. A minimum 304-grade stainless steel is an additional requirement. Whilst burners, plates and other items can be replaced over time, the BBQ must be of a quality that will give many years of service.
External finishes such as benchtops, doors, and drawers carry 10-year manufacturer warranties on UV stability. Additional warranties exist on the internal cabinetry against swelling, rotting and deterioration.
____
In addition to the main five reasons we have touched on in this blog article, design, as a critical element to any successful project, is another subject entirely. With the experience of so many completed projects and many more to come, we have put together a design guide checklist to help your planning that you can download as a pdf below: