We specialise in the design and construction of customised outdoor kitchens and BBQs.
Behind the LimeTree Team are a fantastic bunch of humans who love to spend time outside with a cold drink and enjoy the time spent around a BBQ with people we love. And since it's almost impossible to run a business around Outdoor Kitchens without actually having one ourselves, we've become experts in all things outdoor and BBQ related.
From the Old Man's secret sauce recipe to adjusting the fridge temperature to frosty, we've gathered quite a few tips in our time. Here are our top 5 things to consider when planning your Outdoor Kitchen project.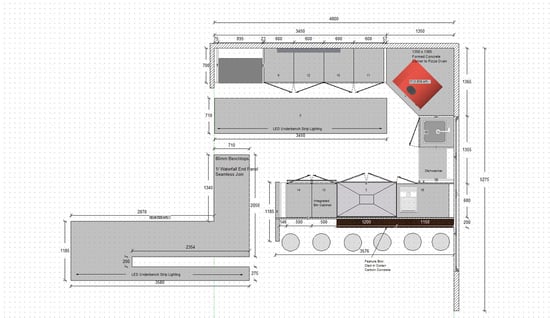 1 - Think about how you will use your Outdoor Kitchen
Try to visualise how you intend to use your Outdoor Kitchen and ask yourself lots of questions. A great start is - How often will I be using my Outdoor Kitchen? This will determine what inclusions you require and the space you need and get you thinking more about detail.
You may only be using it to entertain large family gatherings, or you may want the experience of cooking outdoors on a more regular basis. If it is a standard 3-4 times a week event, where will you store all your utensils and items? What is the proximity of the indoor kitchen? Will I need a sink or dishwasher to make the space self-sufficient? All great questions, and the more you ask yourself, the better prepared you will be.
A perfect start is to have a designer with 3D rendering capabilities to help you see what your possibilities are. The images in this story are from a recent project completed by the team. From floor plan to elevate, it is a perfect tool that helps the process enormously.
A great resource to start your journey is our Outdoor Kitchen Design Checklist.
2 - Services and Connections
We are ranking this consideration highly as it is often overlooked. Whilst not as glamorous as appliances, material finishes and colour choices, the position and access to your services is a critical component of your Outdoor Kitchens design and function. If you are building or renovating, please consult your Outdoor Kitchen designer early in the early stages.
Plans can then be made to put your gas connection, plumbing and electrical in the correct positions. If renovating an existing space, considerations will need to be made on moving services to the required area. You will also need to engage a professional to ensure existing services can handle the inclusions you are putting into your design. Older gas lines may need upgrading, and electrical points moved to a more convenient location.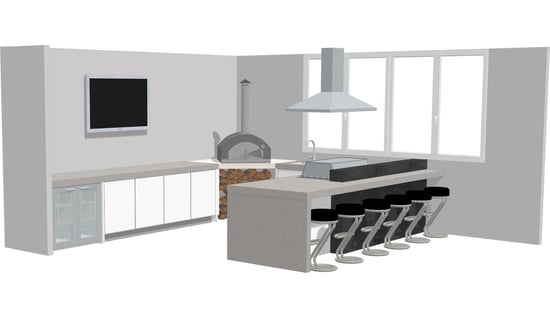 LimeTree Alfresco has qualified gas fitting/plumbers and electricians that we work with. They know their staff are a fantastic asset. The most significant omission we see in renovations is a dedicated waste point for the sink. A functioning sink must be contacted to the home's main sewer, which often creates a logistical issue in getting something in place. Please do not skip over this detail, as it will save you potential pain and cost to get it right from the outset.
3 - BBQ Selection
Your BBQ is the centrepiece of your functional Outdoor Kitchen and, as such, needs to perform, but don't forget looks. A custom-built Outdoor Kitchen is a piece of joinery furniture that needs to look good and complete. It will add considerable value to your home and last many years. The BBQ needs to do the same, so do not compromise on the heart and soul. Let's face it; some BBQs are ugly to look at, so have some consideration for the aesthetic.
Here is also where you need to think hard about your cooking habits. Do you need a combination of a solid plate and grill? Is the BBQ set up to take a rotisserie? What are the dimensions of the cooking surfaces? Will this be enough for your more significant events? We go into BBQ selection in more detail on our blog post page; however, as vain as it sounds, put some value in getting an eye-pleasing unit. The overall look of your space will depend on it.
4 - Adequate Storage
Your Outdoor Kitchen will have cabinets. Think about what you want to store outside to make your Outdoor Kitchen even more functional. Many inserts for storing various items are available. Integrated waste systems, pull out shelving, and cutlery inserts are popular items.
Having the proper internal storage will mean that everything you need to be the greatest entertainer on your block will be organised and at your fingertips. However, drawers are popular and can be a bit more costly than doors, so think about how many drawers you require and engage an Outdoor Kitchen designer to give you options and a solution.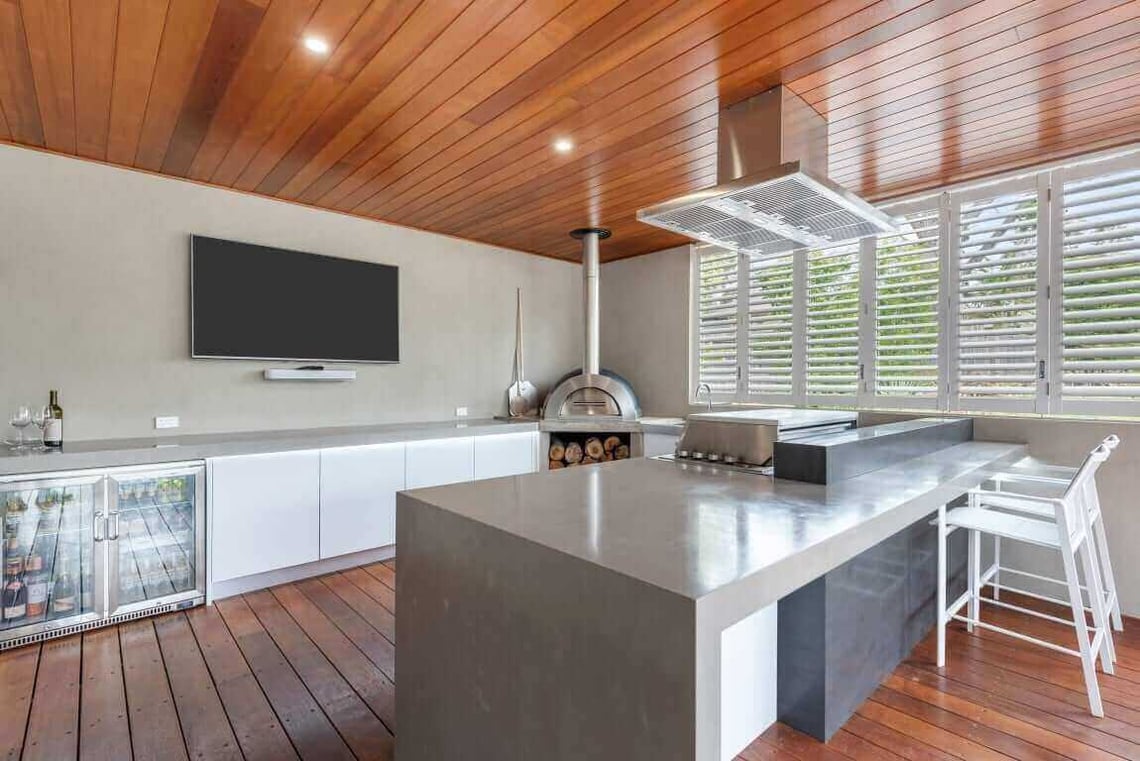 If you have an LPG set up, you will need ventilated storage for your gas cylinders and may also consider fitting them to a sliding tray for easy access. Many LimeTree clients store their outdoor cushions or pool toys in the cabinets we create and, therefore, can customise their cabinet sizes to keep unusually shaped items-very handy.
5 - Comfort
If you will be using your Outdoor Kitchen regularly, and why wouldn't you, then a comfortable cooking environment is essential. Once again, the questions you ask yourself will entirely depend on your requirements and space. If the sun is a problem, you might want to consider some decorative screening or even some aluminium louvres for shelter.
If you are more exposed, consideration should be given to some pergola or awning system. An excellent Outdoor Kitchen specialist will have affiliate businesses that will be able to help with related items such as these. I know we do.
A range hood is a must in more enclosed environments to clear excessive grease and smoke. A BBQ generates a large amount of heat compared to an indoor cooktop. A range hood will need to be a semi-commercial unit capable of moving a minimum of 2000m3 of air per hour. It will require heavy-duty filters and quality internal parts.
____
There you go, guys—our Top 5 Tips to structure your thinking around Outdoor Kitchen design.
Looking for more inspiration when it comes to building an innovative outdoor kitchen?